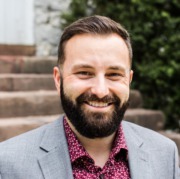 Born and raised in New Jersey, Andrew came to the Central PA area in 2009 to attend school at nearby Messiah College. For the last 8 years Andrew has called central PA home, learning to love the countryside and the views that come along with it. Graduating with a degree in sports management, Andrew decided to pursue a coaching career as a lacrosse coach at Messiah College serving primarily as both the recruiting and defensive coordinator. He wanted to follow his passion for coaching, leading, and mentoring others to achieve their goals. Along with coaching, Andrew also was a co-founder of Peixtin Lacrosse, a lacrosse company that focused on growing the sport in the surrounding area. This company organized and facilitated travel teams, showcases, and personal lessons. With this in mind, he is excited about the opportunity to coach and mentor clients through the home purchasing process. 
Growing up outside of Philadelphia in New Jersey, Andrew became an avid Philadelphia sports fan. Each year he enjoys cheering on the Eagles, Sixers, Phillies, and Flyers. He has enjoyed watching and playing sports all his life. His sports background molded him into being a hard working and driven individual who hopes to have the opportunity to serve you and your desires. 
Currently Andrew lives in Mechanicsburg with his wife Megan who is an elementary school teacher in the Cumberland Valley School District.